Joey Pool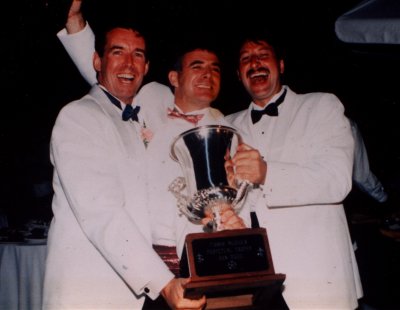 Student 5-7-05c (center)

Last night, Joey stopped by the Fun House with a six-pack of Guinness long neck bottles, which disappeared along with a few cans of Murphys and Guinness from my own stash. Joey is a rather active invidual so it wasn't long before he suggested a game of pool, which I seldom refuse anyone.

Joey lines up fast, if at all, shoots fast, and shoots hard. Position of the cue ball after the shot is of no consequence to him. If he gets ball-in-hand, he simply shoots from where the cue ball stopped, or from in front of the pocket where it dropped. That saves a lot of time thinking, and gets right to the shooting. Sometimes he makes some absolutely incredble shots. But most of the time he will miss, even very easy shots. His attention is constantly wandering from the game. He talks non-stop on several subjects at once, loses track of where he put his stick, knocks it over, forgets to chalk, has to ask if he has stripes or solids... It's really a fascinating experience when playing Joey in pool. But then, Joey is a true perpetual motion machine. You never know what's going to happen next when Joey is around. I guess that's one reason we have been friends these past 20+ years.

In the photo above, that's Joey in the center of things, naturally, with me on the left and Peter Green on the right. This was the party celebrating the 25th anniversary of my 25th birthday. That same day, our soccer team won the season championship, hence the trophy. There was much Guinness consumed that evening. In fact, Joey is holding a pint in his right hand (over my head), and the trophy is filled with Guinness.