Marathon chess match in a smoke filled room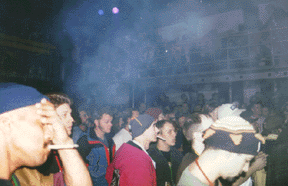 Thursday night, another

APA

team 8 ball match...

I'm up first, against Dale,
who is ranked 6th in the MVP standings,
only 3 points out of second place.
I've never played on this table before
and get only two practice shots before we start.

I win the lag, break, and I'm hooked.
He shoots good and gets out. 1-0.
He breaks and gets a few balls.
I'm hooked again, so I try a safety
and mess it up.
He's out, to make it 2-0.

This is no way to start a match!
If he wins the next game,
he's on the hill,
and I'll need 5 games in a row!

That's just crazy thinking.
Ignore the score.
Focus on the table, the shot.
I gotta bear down, hard.

It was a marathon chess match
that lasted 100 minutes.
It took all the brainpower I could muster.

It was a pleasant surprise
when I hear the team's applause,
and my opponent comes over to shake my hand.
I didn't know until then that I won the match, 5-3.

The conditions were awful.
Heavy cigarette smoke.
(I hate cigarette smoke!)
Mini bar tables.
Extremely lively cushions, but slow cloth.
(Now there's a challenging combination!)
And, I swear, the table tilts uphill
at the entry to the pockets!

As the match wore on,
my focus faded out a couple of times,
probably due to the smoke,
but I caught myself
and got back into the game
by sheer will power.

I'm still learning...

Labels: 8-ball, APA, bar-tables, smoking, win