Bridge by Miltonio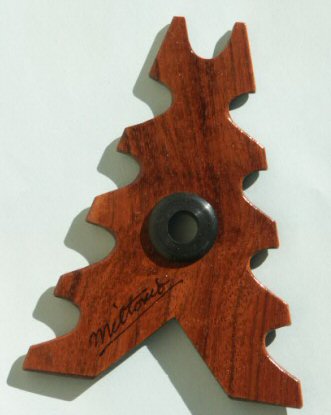 A few weeks ago I visited Miltonio
to discuss building a custom playing cue.
We played a few games of 9-ball on his table,
and I had a chance to use a bridge he built from some scrap.
I liked the design, and suggested a couple of improvements.
And I never thought about it again until a week or so later
when he said he wanted to build a couple of bridges for me
using some nice wood he knew I would like and using
a grommet instead of a cup to hold it on the end of a cue.

So I gave him the go-ahead.
And today I get this photo e-mailed.
Classy stuff, eh?
I like the wood, and the signature.

Great gift item.
Just in time for Christmas!